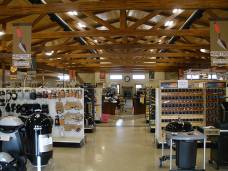 Welcome to Edelmans Lumber,
a full-service home center where we hope to meet all your building needs. We stock a wide range of products, from top-quality lumber supplies to interior hardware. Come enjoy our store, where our experienced sales representatives can assist you in finding what you need on the show floor or out in the lumberyard. In addition, Edelmans Lumber has two building crews, with years of quality workmanship and experience under their belts. Our professionals can quote commercial or residential buildings, including houses, pole barns, and implement sheds, to name a few, and our builders will strive to complete the job above and beyond your expectations.
Quality is our focus.
At Edelmans Lumber and Home Center quality is more than just a word. Every day, in every thing we do we strive for quality. That includes quality material, quality workmanship and a quality shopping experience. We think it shows and we think you'll recognize the difference. The service that we provide may even feel like a throwback to the day when quality was expected. We want you to expect it here. If your experience is ever anything less, we want to know about it! We value you as a customer and will work hard to ensure that you stay one.
Click here to check out our many services.